British Columbia's response to the coronavirus pandemic is continuously evolving. New information is issued by the BC Government through News Releases, which are often accompanied by live press conferences. Regular COVID-19 Briefings with Health Minister Adrian Dix and Provincial Health Officer Dr. Bonnie Henry are live streamed on the BC Government YouTube Channel.
➤ Go to BC Government COVID-19 for the latest official information on COVID-19 restrictions and supports.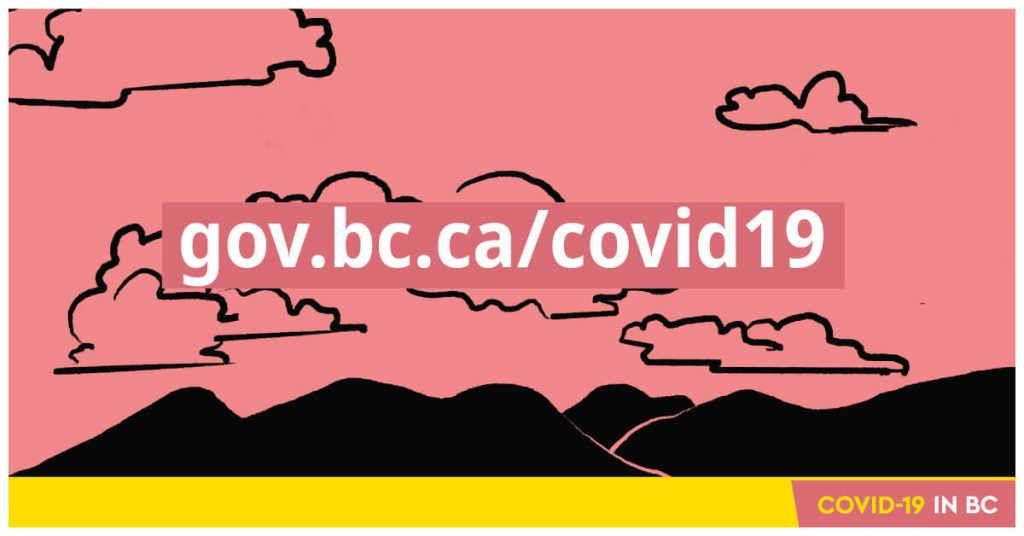 Where to Get Vaccinated
Getting vaccinated keeps everyone in B.C. safe and stops the spread of COVID-19. it is the best choice to protect yourself, the people you love, and to ensure you can continue to participate in these public and private events and settings. Our B.C. vaccine card is an essential interim action until we transition to a federally compliant proof of vaccine.
To book an appointment to get vaccinated or find a drop in clinic in the lower mainland visit: https://www2.gov.bc.ca/gov/content/covid-19/vaccine/register
Useful Links
Be cautious of information you read on the internet and rely on these official sources when in doubt.
If you are not feeling well: 
If you require financial or social support:
If you need help or would like to give help to others:

Call: 2-1-1  (translation services available)

Medical information about COVID-19:

Call: 8-1-1  (translation services available)
Online: BC CDC 

Non-medical information about COVID-19:
Travel Advisories:
Urgent Care Wait Times:

Medical facilities may be under increased burden during these times. Visit Emergency Department Wait Times to see the wait times for emergency and urgent facilities in Vancouver, Richmond, and North Shore.
Social Media
British Columbia's response to the pandemic continuously evolves. Social media is often the fastest way to get new information direct from official sources. Follow these accounts to receive reliable information:
Official Facebook Accounts:
Official Twitter Accounts:
Official Instagram Accounts:
Last Updated: January 11, 2023