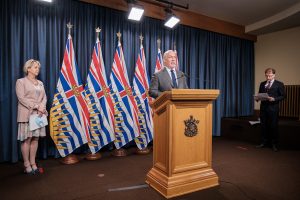 The Province is investing $1.6 billion in a fall and winter preparedness plan to reduce the spread of COVID-19.
This is a massive human resources operation which will strengthen both BC's economy and healthcare system:
We're investing:
✅ $44.1 million to launch the Health Career Access Program and recruit an estimated 7,000 health-care workers in long-term care homes and assisted-living facilities
✅ $374 million to bolster the fall flu immunization campaign. 45,000 Fluzone-High Dose immunizations will be made available to all long-term care and assisted living residents.
An additional 450,000 influenza vaccine doses will be made available in the 2020-21 influenza season, for a total of approximately two million doses.
✅ $42.3 million to ease the pressures off B.C. hospitals and reduce the chance of COVID-19 transmission in the hospitals. Hospital at Home, an innovative program that has succeeded in Canada and around the world, allows patients who meet the criteria to be offered 24/7 care at home rather than being admitted to hospital.
✅ Work to increase testing continues, and this fall, lab capacity will allow for 20,000 tests per day.
✅ The Ministry of Health also continues to ensure the Province is equipped with personal protective equipment (PPE).
Through its experience with COVID-19, the Province has learned and adapted to ensure its strengths and resources are developed and positioned to protect and keep safe those who are most vulnerable to the virus.
For more: https://news.gov.bc.ca/releases/2020PREM0050-001694