MISSION- This year at Hatzic Middle School a group of staff and students had the privilege of participating in a Halq'emeylem translation contest at Seabird Island. We were fortunate this year to have a dedicated Hal'qemeylem language teacher, Rachelle Silver, to teach us the language and organize this event. Ms. Silver made the learning fun and encouraged students to do their very best. She delegated a half hour during every day 1 block 4 to rigorous practice. The liaison workers Jennifer Snow and Rachel Schooner learned alongside the students to demonstrate the importance of learning the language of the land we are on. Fortunately, students that participated have also been exposed to Halq'emeylem language by former elementary school teachers "Pipte" Peter Lindlay, and "Malila" Donna Giroux. It was fantastic that the students had some previous knowledge as it came flooding back as we practiced.
Students that participated in the contest were: Shayla Seymour, Daemon Cooper, Hayden Berg, Sheridan Conlin, and Damien Letkeman. Staff: Jennifer Snow and Rachel Schooner. Here are some words from the students:
Damien: "In grade 6 Pipte came to Cherry Hill to teach Halq'emeylem. I forgot most of the stuff, except my name that was translated. Some stuff was easy to learn, but the hard part was remembering the orders of the sentences. The competition was really fun and we got some cool stuff. It was amazing and shocking when we came in first place. Holding the trophy was amazing, but what is even better is knowing I helped to win it."
Shayla: "I really didn't have to study too much because I remembered a lot of what Pipte taught us at Deroche Elementary. For the contest we would sit in a circle to practice; I liked meeting new people in my school. The contest was a lot of fun; we were given gifts and everything was purple. I couldn't believe it when they announced we had won. It was awesome to bring back the trophy and show everyone back at school."
Daemon: "It was really fun and I am really proud that we won. We won an ipad and a huge trophy. It was great to have lunch with friends and I really enjoyed it."
Overall the day was a great success. We took home the first place trophy and won an ipad for our Aboriginal Department. The students gleamed with pride and have a long lasting sense of accomplishment. We will be attending again next year and hope to have 3 separate teams of grade 7, 8, and 9 students.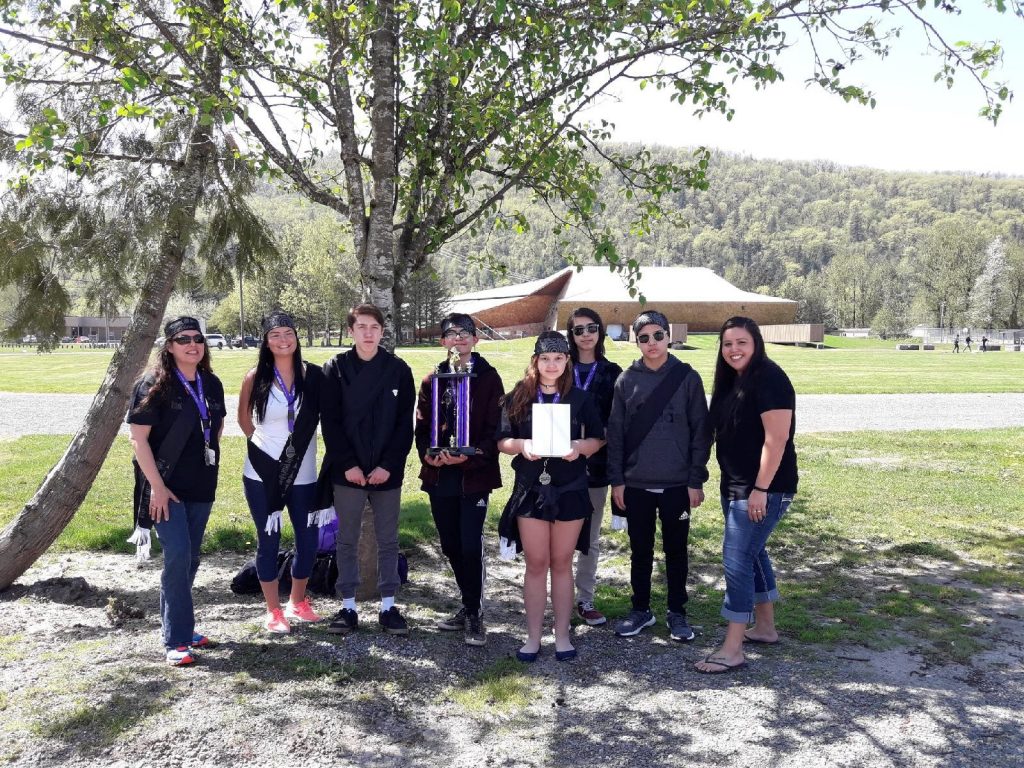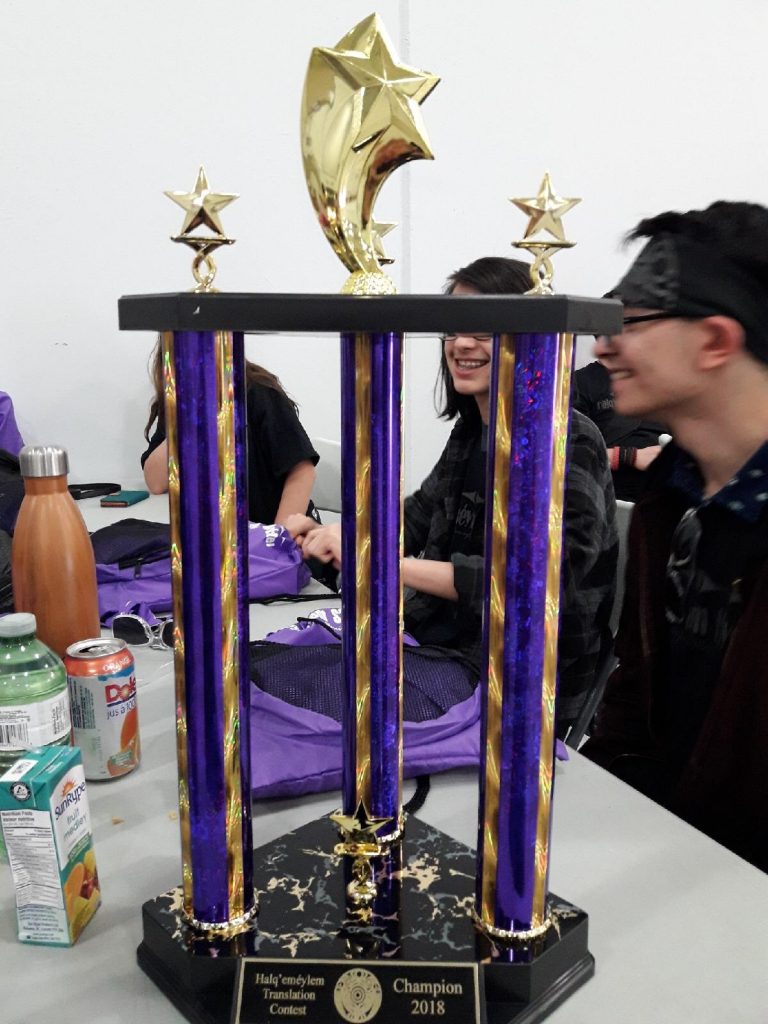 Authors: Damien Letkeman Grade 9, Musqueam First Nation and Shayla Seymour, Grade 8, Leq'a:mel First Nation – Hatzic Middle School
Originally Published May 16, 2018 in Canoe
Community News posts are contributed from local groups and individuals.