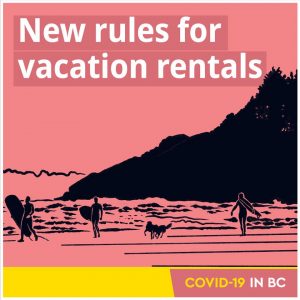 Parties and large gatherings at vacation rentals have led to community outbreaks of COVID-19. That's why Dr. Bonnie Henry, our Provincial Health Officer, changed the rules for vacation rentals.
The new rules are:
✅ No more than 5 extra daytime guests are allowed to visit you at your rental (ex. BBQ or dinner party).
✅ Rental owner must collect contact information for guests and visitors and keep it for 30 days.
✅ Rental owners are responsible for making sure the rules are followed.
Plan for a safe long weekend. And keep doing your part to protect others.
Learn more: https://www2.gov.bc.ca/assets/gov/health/about-bc-s-health-care-system/office-of-the-provincial-health-officer/covid-19/covid-19-pho-order-gatherings-events.pdf?fbclid=IwAR1kmTFzwVTMWVNzAyhyiqKhg-JC7pHRedYRvHJtr-Oq3gRIcXS8PHzUUpk